Unboxing Diamond Shield Zapper IE
How to connect the Diamond Shield Zapper
Frequency therapy is based on the resonance principle. Every organism (including viruses, bacteria, parasites and fungi) emits vibrations in a certain spectrum. If a certain pathogen is exposed to electric current in its specific frequency range, it can be weakened or killed, and the body can excrete it.

In the 80s and 90s of the last century, Dr. Hulda Clark had discovered a link between environmental pollution and parasites as the cause of chronic diseases and with her frequency measurements of numerous pathogens (viruses, bacteria, parasites, mycoses) and her development of the simple Clark zapper had laid valuable foundations for practical implementation and further developments. Also the helpful frequencies determined by Royal Raymond Rife in the 30's to 50's to the most diverse disease pictures offer a large treasure at application possibilities for the frequency therapy with the Zapper.
The discoveries of these two pioneers are a great achievement and have opened the consciousness of many people for the energetic aspects of diseases and regulating and balancing therapy. The original Clark zapper, which was able to achieve amazing effects with just one square wave frequency in positive offset, has long since been replaced by multi zappers that can generate specific frequencies. The use of specific frequencies opens up thousands of possibilities. In the Diamond Shield Zapper series, the latest technical possibilities have now been used to increase the effectiveness of the applications.
Grounding and pulse discharge

releases the body from its electrical overloads.

Frequency modulation

with an overtone, so to speak, deepens its effect.

Microcurrents

increase the effectiveness of supporting frequencies.

Wobbling of frequencies

allows full use of the respective frequency spectrum of a pathogen.

Harmonical frequencies according to Baklayan

can directly address acupuncture meridians and points. They allow acupuncture applications without needles.
What can the Diamond Shield Zapper do?
A state of the art zapper like the Diamond Shield Zapper IE can, of course, create the original unspecific effect of the rectangular current with the simple Clark programs, but also the specific effect of thousands of known frequencies that can be used selectively. Many easy-to-use and helpful programs have already been developed for home use.

The most important of these specific programs are pre-installed, many more are available as chipcards. There is also the possibility to search frequency programs in an online database with the help of free software and to store them from the PC via a USB chip card recorder all at once recordable chip cards. In addition, individual programs can be programmed by the therapist on master chipcards. With this help, everyone at home can now specifically address their own health problems and also support orthodox medical therapies. Everyone can do something for their own health. The pre-installed Diamond Shield programs and the Diamond Shield chip card programs offer you effective possibilities:
Beneficial discharge
Physical and mental relaxation and regeneration
Regeneration of the body's own protective system
Resolution of blockades
Rejection of pollutants and toxins
Activation and regulation of self-healing powers
---
The Diamond Shield Zapper IE is already equipped with 15 important programs and applications:
Clark-Zapper-Programs

3x 7 min. with 20 min. pause each 33.3 KHz according to Dr. H. Clark with broadband effect
Continuous zapping 33.3 KHz according to Dr. H. Clark, 1 hour with broadband effect

Plate-Zapper
Plate Zapping 29 Hz, 30 minutes
for Zappicator (energization of food)
1 KHz, 20 minutes
Blood frequency Dr. Beck
3,92 Hz, 60 minutes
DS (Diamond Shield Programm)
24 Frequ., 5:50 Min.
a selection of two dozen frequencies capable of balancing all the meridians of the body, i.e. regulating the flow of energy throughout the body. It can be recommended for basic regulation before many programs.
GS (analog Golden Stream, the predecessor of the Diamond Shield Programs)
Feel-GoodProgram – 14 Min. – Deep release
Feeling well again, falling asleep program
Relaxation program– 8:22 Min. – Simply relax
Can also be used as a sleep program
Back program – 8 Min – especially for back tension and pain
Pain program, – The pain program according to Dr. Rife – 13 Min.
Cold program – 8 Min. – 5 Frequencies
Flu program, 4 Frequencies, 8:30 Min. – Standard program for flu infections
Lyme disease program – 39 Min. – very important in view of the increasing vulnerability
EMS program, a gentle electrical muscle stimulation
For many common cases pre-programmed chipcards are available as accessories for the Zapper Diamond Shield IE. Over 50 chip cards, which offer very good support in the application of various complaint images, and new ones are constantly being developed ... In addition, it is possible to manufacture individual chips.
---
---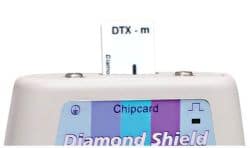 ---
The available Diamond Shield Chipcard programs
Basic regulation
Diamond Shield 2 for the individual application of the meridian programs, e.g. for pain therapy with the electrodes placed directly on the meridian.
Crystal – 2 sequences – total running time 100:00 min - to upgrade Diamond Shield IE to Diamond Shield Crystal Zapper - deep restructuring, cleaning and detoxification
Chipcards according to 5 elements – With the help of the harmonic frequencies the meridians of an element of traditional Chinese medicine are controlled and supported or damped.
Golden Harmony programs

GH – Golden Harmony – 25 programs – running time 12:30 Min – support and balance of nerves, psyche and vegetative nervous system. Activation of excretory organs, regulation of energy cycles, cell regeneration.
EM-A – Emotional balance - Running time 15 min - Solution of emotional blockades, harmonization
STR – stress-regeneration – 2 programs – running time 12 Min
SLF – sleep aid – 2 programs – running time 12 Min – Improvement of sleep quality and regeneration
P-AUS – Positive charisma – 4 programs – running time 12 Min – has a relaxing effect on body and mind. Promotes positive charisma and well-being.
VIT – Vitality/Endurance – 2 programs – running time 12 Min – Promotes the body's own performance.
RÜ-MU – back/musculatur – 10 programs – running time 27 Min – relaxes the entire musculature, supports the lymph, reduces muscle pain especially in the back area.
HOR – Hormon program – 2 programs – running time 12 Min – supports and balances the hormone balance
Immune system and detoxification
Immune modulation - Running time 35:00 min. - Stimulation of the immune system
Strengthen the immune system against parasites - running time 26:00 min. - classic Rife frequencies to strengthen the immune system against parasites in general
Strengthen the immune system against viruses - Running time 34:00 min. - Frequencies stimulate the immune system especially during viral stress (e.g. influenza).
Bioenergetic blockades dissolve - 18 min. - neutralizes negative effects of E-Smog, radioactivity, geopathic stress, lateral disturbances and scar stress.
Detox - running time 45:30 min. - the main TREF frequencies for detoxification of intestines, kidneys, lymph and liver
Sequence of emotions - running time 7:00 min. - compensation of emotional burdens, adjustment of the cancer metabolism
Organ functions support
Liver - running time 23:00 min. - fight against parasites, support of liver detoxification
Stomach - running time 21:00 min. - support of the main functions, treatment of hyperacidity, belching, appetite disorders, feeling of fullness, etc.
Kidneys - running time 21:00 min - supports the main functions of the kidneys, detoxification, drainage.
Pancreas regulation - duration 21:00 min. - regulation of all functions of the pancreas (digestion, enzymes, sugar balance)
Lymph drainage - running time 20:00 min. - decongestion of tissue fluid, reduction of oedema, pain relief.
Lungs - running time 24:00 min. - support of the main functions, prevention, after-treatment, improvement of oxygen uptake, favourable influence on depressive moods
Heart - running time 21:00 min. - support of the main functions, treatment of arterial and venous diseases, pain in the heart region, heart sensations
Prostate - Running time 24:00 min. - Support of main functions, fight against trichomonas, chlamydia, toxoplasms
Viruses
EBV - Running time 21:00 min. - Activate protection against all EBV types
Hepatitis C - running time 21:00 min - effective against hepatitis C and other hepatitis viruses
Herpes simplex - running time 55 min. - frequencies for the treatment of herpes zoster, herpes type 6, herpes progenitalis, varicella (chickenpox), EBV, cytomegaly
Warts - running time 67:00 min. - Rife- and Clark frequencies for different types of warts.
Bacteria
Clostridia - running time 20:00 min. - a valuable support for cancer therapy, for degeneration of the intestinal flora and for stove therapy for root-treated teeth
Borrelia - 3 sequences - total running time 96:42 min. - intensive treatment
Parasites
Tapeworms - running time 40 min.
4 leeches - running time 41:00 min - Includes specific frequencies against Fasciolopsis buski, Fasciola hepatica, Clonorchis sinensis, Eurytrema pancreaticum and frequencies to activate the immune system specifically against parasites.
Mites - running time 30:00 min. - frequencies of Demodex folliculorum (hair follicle mite), Dermatophagoides (dust mite), Acarus siro (flour mite), Ornithonyssus (bird mite), Sarcoptes scabiei (scabies)
Mykoses
Candida - 4 sequences for application in a 4-day rhythm - the complete Candida spectrum can be covered. The treatment is suitable for therapy support for all clinical pictures associated with a Candida infection.
Aspergillen - Running time 10 min.
Disease patterns and complaints
Asthma - 12 programs - runtime 52 min.
Acne - 10 programs - duration 47 min.
Allergy - 3 sequences for basic therapy (50 min.), energy balance (20 min.) and plate zapping or acute seizures (20 min.)
Anti-smoking - running time 50 min. - 5 specific drainage programmes for liver, lungs, blood, intestines and mucous membrane
Bio-Regeneration - Running time 49:00 min. - Combating pathogens involved in the development of cancer
Blood pressure regulation - running time 7:00 min. - works effectively against any form of high blood pressure that is not associated with cardiovascular or kidney diseases.
Diabetes - duration 71 minutes - pathogens and strains often associated with diabetes are combated.
Weight loss - running time 15:00 min. - a supporting measure for weight regulation. Adrenal gland, thyroid gland and metabolism are stimulated.
ear, nose and throat - duration 38:30 min. - treatment of bacterial infections (e.g. streptococci and staphylococci)
Concentration - running time 16:00 min. - stimulates the blood circulation in the brain, improves the ability to concentrate.
Migraine - running time 24:00 min. - control of migraine-specific parasites
Piggy - running time 23:00 min. - contains selected frequencies for the influenza virus H1N1 (swine flu)
Rheumatism - Running time 51:00 min. - Radicals derivation, treatment of hyperacidity, parasites, pathogens, protein hypersensitivity, excess carbohydrates
Pain treatment analogous to TENS (transcutaneous electrical nerve stimulation) - 3 programs à 10:00 min. - for acute and chronic pain
Tinnitus - Running time 27:27 Min. - harmonic Aku frequency programs
Tooth complaints - running time 41:30 min - frequencies of 9 of the most common bacteria found in tooth herds.
More Information
On our constantly growing YouTube channel you will find many more information and instruction videos about the Zapper. Also interesting testimonials and interviews with long-time Zapper users. Most of the videos are available in english or you will be able to watch them with subtitles in the recent future. Have a look!
Diamond Shield YouTube channel